Gallery Exhibition Open, Artist Reception to be Held for Jamestown S'Klallam, Makah Carver
Submitted by
Pencol-1
on Wed, 2019-01-23 14:54
Gallery Exhibition Open, Artist Reception to be Held for Jamestown S'Klallam, Makah Carver
Artwork by Dusty Humphries, Sr. of the Jamestown S'Klallam and Makah Tribes, will be on display in ʔaʔkʷustəŋáw̕txʷ  House of Learning, Peninsula College Longhouse now through April 25. 
Humphries grew up watching his mother carve. He apprenticed under Jamestown S'Klallam Master Carver Jeff Monson during the creation of the Welcome Pole in 2010 on the Peninsula College campus and started producing his own art around the same time. He is now a carver for the Jamestown S'Klallam Tribe. 
"This trade is not written down," Humphries said. "You can't read about it in a book. Our traditions are oral. We learn by sharing our traditions and being hands on in the process"
His utilitarian wood carvings feature the use of positive and negative space which is an element of Coast Salish design. 
For over a year Humphries has been working on a 26-foot pole for the Jamestown S'Klallam Tribe, and will design and carve a second pole as well. When the project is finished there will be three poles to welcome the canoe pullers to the Jamestown beach during Tribal Canoe Journeys. 
A free artist reception will be held Friday, March 1 from 2:00 pm to 4:00 pm in the Longhouse. Winter gallery hours are Tuesday – Thursday, 10:00 am – 2:00 pm.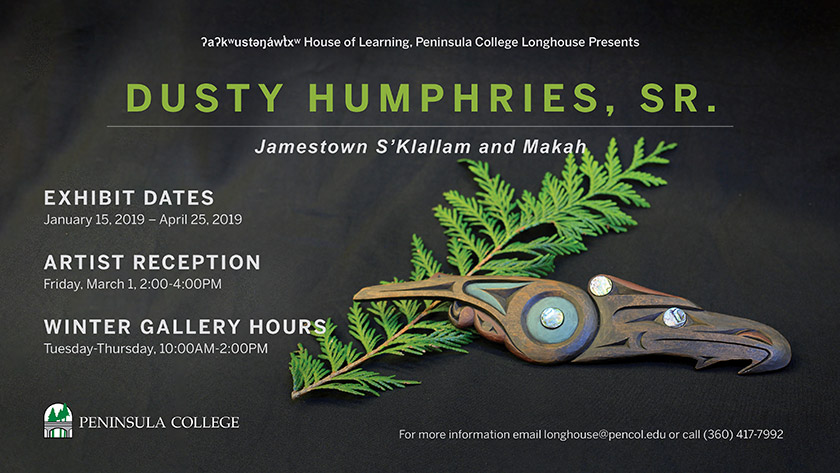 For more information or to schedule a tour, contact longhouse@pencol.edu or (360) 417-7992.